A group of unlikely heroes emerges out of the horrors of World War II and forges a global legacy of humanity and peace impacting every generation since: this is the story of The Drivers.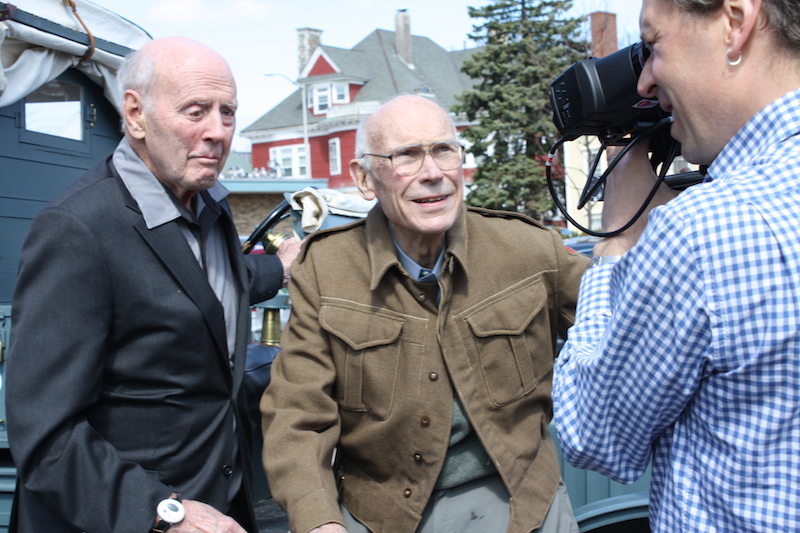 CREW
Director/Producer: Tracy Christian recently directed Street Journeys about a performing arts orphanage in Kenya. Street Journeys was part of The St. Louis International Film Festival (2012), The Africa World Documentary Film Festival (2012), and Lincoln Center's "Art of the Real" Documentary Series (2013). Peter Travers of Rolling Stone called Street Journeys "An exhilarating documentary that speaks to the nurturing power of art…prepare to be wowed." Street Journeys aired on PIVOT (formerly known as The Documentary Channel).
Producer: Meira Blaustein is the Co-founder, Executive Director and Programmer of the Woodstock Film Festival, which was launched in 2000 and has quickly been named among the top 50 most respected and influential film festivals in the world. Blaustein has over twenty years of experience in filmmaking, writing, producing and directing numerous projects including her full-length documentary For Love of Julian, narrated by Susan Sarandon. She is currently in development on a number of full-length fiction and nonfiction films. During her tenure at the film festival Blaustein also co-founded and developed the Cabo International Film Festival in Cabo San Lucas, Mexico. The festival developed into what is now the Baja International Film Festival. In 2014 Blaustein consulted and mentored the emerging film community at the Faroe Islands, which are under the sovereignty of Denmark, and most recently came aboard as the Head Consultant for the first annual Bhutan International Film Festival, set in the Himalayan country of Bhutan. Blaustein has served as juror, speaker, mentor, workshop leader and panelist at a variety of film festivals and special events in Norway, England, Israel, the Faroe Islands, Bhutan, Texas, Florida, Utah, and New York.
Producer: Cynthia Kane was an independent producer for Al Jazeera America, ITVS (Independent Television Service), Sundance Channel. In creating DOCday on Sundance Channel in 2002, Kane helped transform the way global documentaries are seen on American television. Through her work at ITVS, she shepherded over 150 international and U.S. co-productions for public media. As Senior Commissioning Producer for documentaries, Kane helped launch Al Jazeera America and the Sunday night premiere doc strand, Al Jazeera America Presents with such series as Kartemquin's duPont Award-winning Hard Earned and documentaries such as Albert Maysles' final work, In Transit, Leon Gast's Sporting Dreams, Barbara Kopple's Shelter, Jennifer Maytorena Taylor's Daisy and Max and Michelle Shephard and Patrick Reed's Guantanamo's Child. Recently she formed gbgg with UK producers Lisa Scott Gordon and John Warburton with the mission to produce social issue narrative films and documentaries.
Cinematographer: Graham Willoughby is a cinematographer whose documentary work includes 20 Feet From Stardom (Academy Award Winner: Best Documentary 2014), The Music of Strangers: Yo Yo Ma and the Silk Road Ensemble (TIFF 2015, Theatrical release 6.16), Keith Richards: Under the Influence (Netflix original 2015), Best of Enemies (Sundance 2016), Lost Songs: The Basement Tapes (Showtime 2014), A Love Letter for You (2011), Uneven Fairways (Golf Channel 2009), The Black List (HBO/Sundance), Troubadours (Sundance), Cocaine: History Between the Lines (History Channel 2011). Other commercial and industrial clients include: Cameron Crowe, Terry Stacey, Russell Fine, Adolfo Doring, Arthur Elgort, Mario Testino, Crescenzo Notarile, Microsoft, MTV, Nick Jr., Animal Planet, Pfizer, and ABC. Graham also brings a personal connection to The Drivers – his father was an AFS ambulance driver who helped in the efforts at Bergen-Belsen.